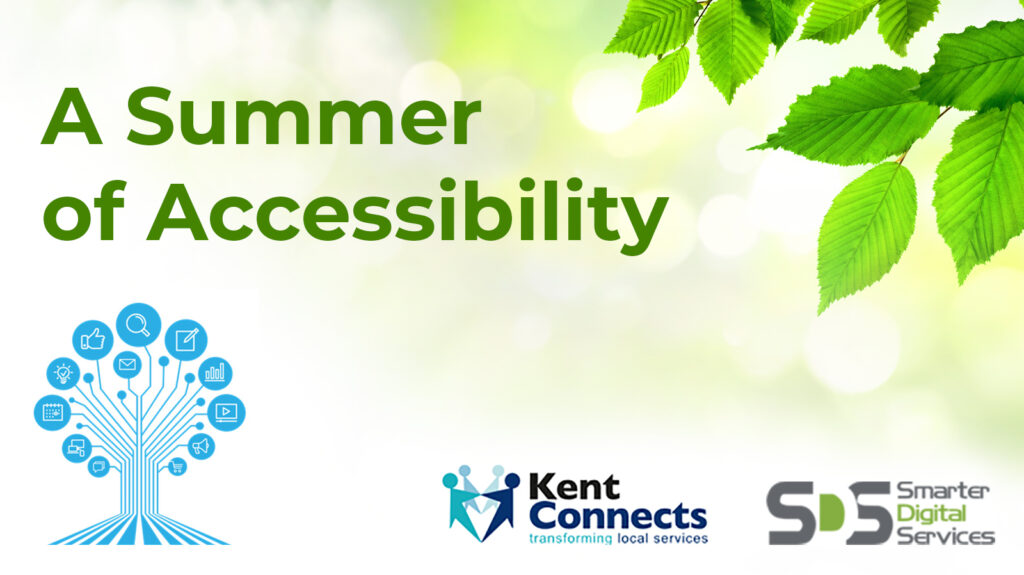 GOETEC members and their staff are invited to book onto sessions set up as part of Kent Connects' Summer of Accessibility is a series of free live webinars delivered by Kent Connects, of which GOETEC is a partner, and Smarter Digital Services are jointly delivering these informative sessions.
Whether you are new to accessibility or looking for ways to further embed accessibility in your organisation's culture and working practices, there's something for everyone in this series of eight 45 minute webinars being held from May to July.
You and your colleagues can attend any or all the sessions for free.
Session 1: Digital Accessibility Back to Basics
If you are new to digital accessibility or would like a quick refresh this is the webinar for you, we will cover what you need to know to start making a difference.
Session 2: Accessibility tools and technologies
AbilityNet will share some of the latest tools and technologies people are using to help them to access information online.
Session 3: Accessibility audits and what it involves
Join us to find out more about how to check the accessibility of your websites and the tools and resources that are available to help you do this.
Session 4: Procurement and accessibility
Find out what others are doing to ensure suppliers are meeting accessibility standards.
Session 5: Mastering accessible online documents
If you write documents that get published on a website this webinar will help you to ensure your documents are accessible to everyone.
Session 6: Creating an accessibility strategy and culture
Join Kent County Council for a session on how to create, adopt and embed an accessibility strategy and culture across your organisation.
Session 7: Accessibility myth busting
Help us to uncover the truth about some of those digital accessibility myths you may have heard.
Session 8: New accessibility e-learning course
Join us for a preview of the new interactive accessibility e-learning course we have created and find out how this could help you and your organisation.
Book your free place at these webinars on Eventbrite using the links above. You will receive an email with links to join MS Teams events 2 days before.